Sector Público

Public Sector Solution Provider

Inmersion Day

Well-Architected Partner Program

Solution Provider
WE MAKE CLOUD JOURNEY EASIER AND FASTER
Our mission is to make cloud adoption simpler. Combining new technology with our specialized team working with the cloud provider leader as AWS we make cloud milestone came true. Lack of legacy application knowledge, business criticality, specialized skill requirement, and unstandardized processes around application modernization can prevent customers from modernizing applications and data at scale. We help customer to mitigate this lack of knowledge and provide high skill services to migrate and modernize their workload to cloud.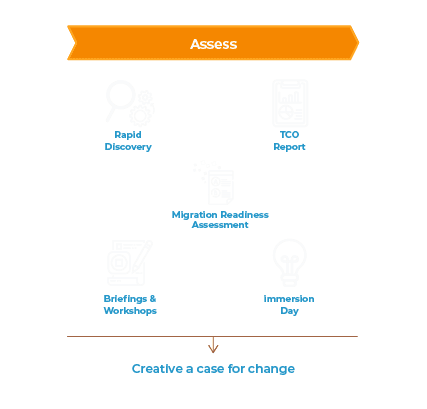 Assess
The first phase of a cloud migration begins with a cloud readiness assessment of your enterprise's current state. These assessment tasks give you a clear picture of what you will migrate, as well as a business case for migration and total cost of ownership (TCO) analysis for migration.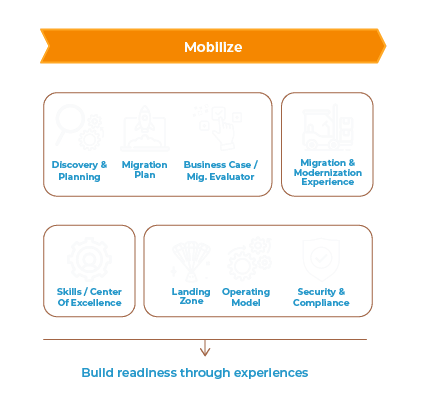 Mobilize
With a strong understanding of your current state and your portfolio along with the solid business case, you develop in the assessment phase, you can demonstrate the value of the cloud to your organization. The goal of the mobilize phase is to build foundational capability both in the organization and with the AWS environment with hands-on migration experience focused on security and operations automation.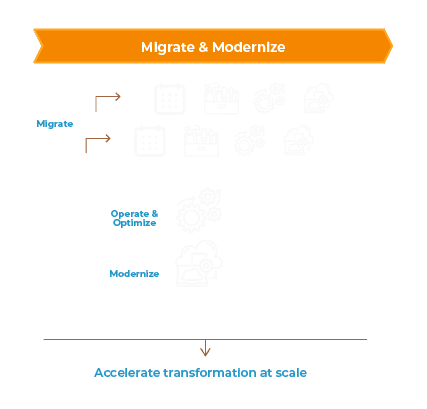 Migrate
The migrate phase leverages patterns, processes, tools, resources, and methodology from the mobilize phase to scale application migration. By applying best practices and lessons learned, a migration factory can be established, serving as a blueprint for automated and agile implementation and operations at scale.
Our BGH Tech partner migration expertise + the AWS Cloud platform = Success
40%
Reduction in total cost of ownership with reduced Opex and Capex
10x
Increase in staff productivity
5x
Faster business response times
99%
Service reliability with AWS
COMMON MIGRATION USE CASES
Server & Data Migrations
Migrate workloads from your on-premises infrastructure, Google Cloud, or other cloud platforms to AWS, as well as migrate large, on-premises data sets to the cloud.
Database Migrations
Migrate all of your organization's data from commercial and open-source databases without leakage.
Application Migrations
Migrate hundreds of applications to AWS rapidly without disrupting crucial operations.
SAP Migration
Migrate your entire SAP application to cloud using native AWS cloud solution
OUR SUCCESS CASES: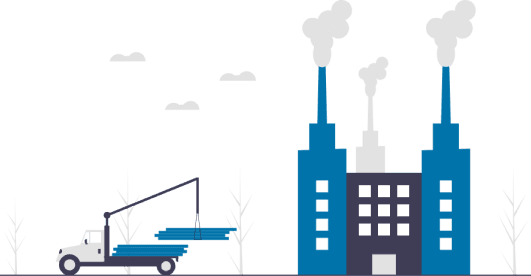 Mimo & Co
Digital transformation is often perceived as a complex objective, especially in certain industries, such as retail. However, Mimo & Co was able to carry out a process that involved different technologies that allowed it to improve collaboration between employees, security and management processes.Digital transformation is often perceived as a complex and difficult objective to drive. Especially there are industries such as retail, which due to the current context have the need to innovate, but sometimes they find it difficult to move forward with implementation and modify the traditional way in which they manage their business. However, Mimo & Co was able to carry out a process that involved 3 different technologies that allowed it to improve collaboration between employees, security, and management processes, and is an example of how flexible customized solutions can be adopted, which is a staggering way they impact the business, customers, and employees.
CONTEXT
Mimo & Co is a family business established in 1965 in the city of Paraná. It's founder, Noemi, set off to make small productions out of her home and -with time- demand led her to incorporate more staff and machinery, leading to it landing in Buenos Aires in 1979. It's currently one of the leading and most distinguished kids wear brands in Buenos Aires, selling in over 100 exclusive point of sale and 300 whole sale channels. It owns a 22.500 m2 factory, distributed in 2 manufacturing plants, with design, cutting, warehouses and administrative offices, employing more than 1000 people.
SIMPLOT BRINGS ITS ERP TO THE CLOUD._
A global leader that bets on innovation to continue growing.After the decision to set up its operations in Argentina, Simplot had to find a way to be able to quickly go to market without losing efficiency in business cycles. Thus, they relied on a strategic partner such as BGH Tech Partner to migrate their ERP to the cloud. In addition, they acquired a comprehensive support service that allows you to manage doubts or solve problems instantly.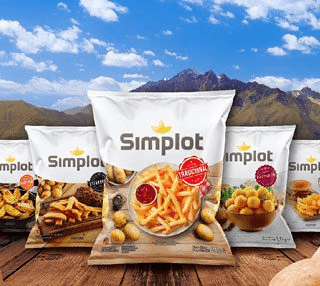 CONTEXT
Simplot is a global leader in agribusiness and creator of the first frozen potato chips. With operations in the United States, Canada, Europe, Mexico, Australia, China and other Asian countries, they have more than 10,000 employees around the world who work in the growth, processing and marketing of food.Since 1967 they have been exclusive suppliers to McDonald's offering frozen potato chips to all their restaurant chains, ensuring the highest quality throughout the year.In 2016 they decided to make a commercial agreement with the company San Fili SA, a benchmark in the frozen pre-fried potato industry, finding a strategic partner to settle in Argentina and develop their business in an area of 7,000 hectares located in Mendoza, characteristic for the high quality and yield of potato cultivation.