RETHINK YOUR INFRASTRUCTURE
WITH AN EFFICIENCY
AND SCALABLE MINDSET._
Experience greater cost efficiency, faster speed to market, and improved service levels moving your business to the Cloud._
CLOUD ADOPTION WORKSHOP
Understanding of "As Is"
Planning of your "To Be"
Architecture Foundations and Guidelines
Workloads Reviews
Team Structure and Skill Gaps
Architecture Gaps
Platform and Available Service Options
1 WORKING SESSION
FREE OF CHARGE
4-WEEK ENTERPRISE WORKSHOP
WELL-ARCHITECT CLOUD WORKSHOP
A thorough review of Cloud Architecture Best Practices that will
allow you to create a solid platform to launch and run your apps and
workloads in a secure, high performing, resilient and efficient way.
4-WEEK ENTERPRISE WORKSHOP
CLOUD IMMERSION DAY:
One-to-two-day workshop to help our customers review the various
and important components of Cloud Infrastructure. Learn how to
maximize value with the help of our technical experts to unlock the
potential your organization can use to achieve its goals.
FREE OF CHARGE FOR OUR EXISTING CLIENTS
2-DAY WORKSHOP
CLOUD MIGRATION
Workload migration from Any to Any using our proprietary Design, Build, and Migrate Services methodology.
We provide a variety of migration options to meet the needs of our customers.
Using the 7 Rs, we can determine which option is best for each specific situation:
Retire | ReHost | RePlatform | ReFactor | ReArchitect | Replace | Retain.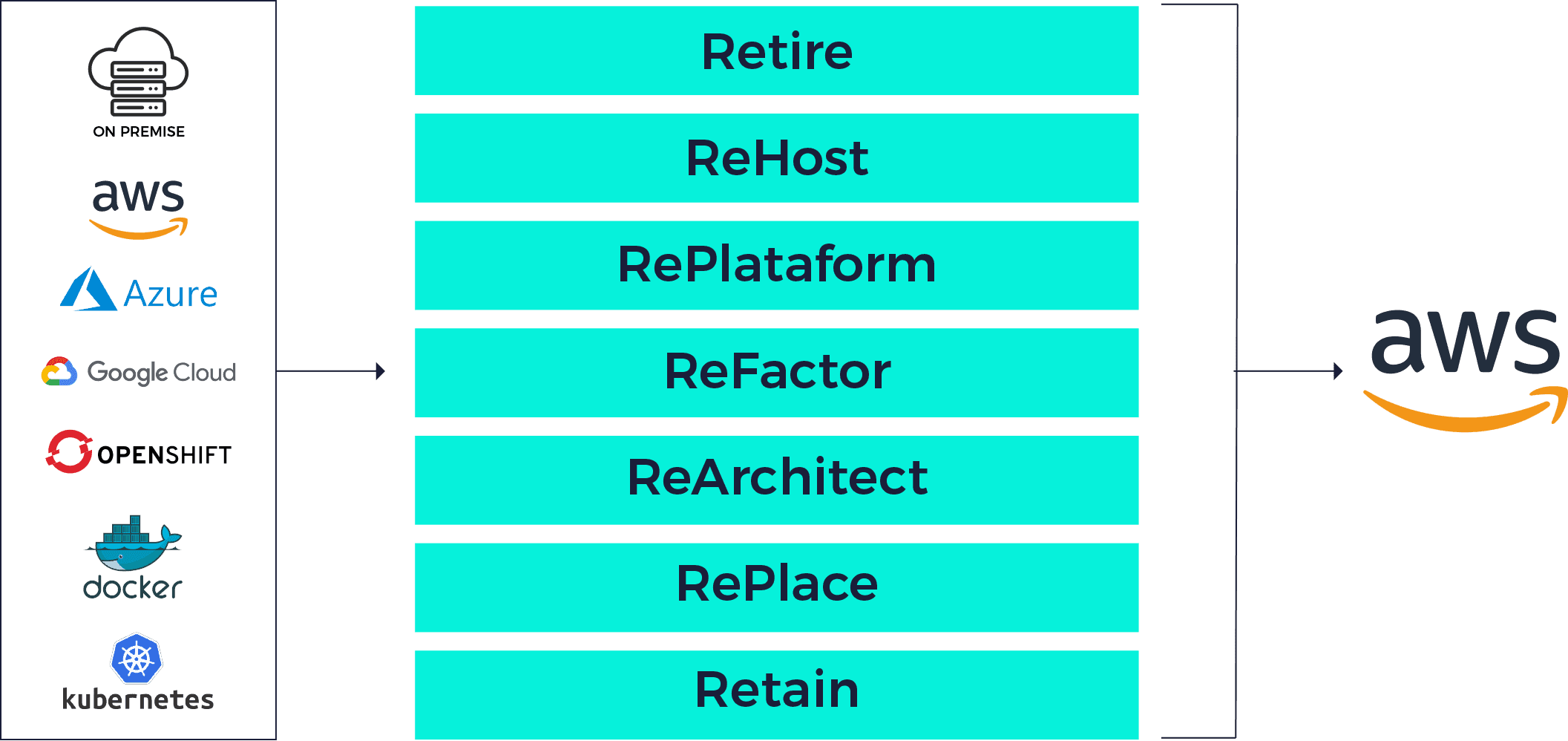 SERVER & DATA MIGRATIONS
Migrate workloads to AWS from your on-premises infrastructure, Google Cloud,
or other cloud platforms, as well as large on-premises data sets.

DATABASE MIGRATIONS
Migrate all of your organization's data from commercial and open-source databases
without leakage.

APPLICATION MIGRATIONS
Migrate hundreds of applications to AWS rapidly without disrupting crucial
operations.

SAP MIGRATION
Migrate your entire SAP application to cloud using native AWS cloud solution.

MOODLE MIGRATION
Migrate your Moodle instance to AWS smoothly and even enhance the user
experience of your students.
RUN & OPTIMIZE - COM + SQUAD SERVICES
Traditional IT services are being transformed into hybrid and Cloud Native infrastructures. Our engineers
continuously monitor all vital signs of your infrastructure, including workloads, usage, alerts, and traffic,
as well as consumption that will affect your Cloud costs.
RUN & OPTIMIZE
25% OF CLOUD CONSUMPTION 5X9
Level 1 support with optional 5x9 or 24x7 coverage
Incident analysis and resolution
Analysis, diagnosis and recommendation of corrective actions and problem resolution.
Proactive improvement recommendation.
Knowledge transfer (not including immersion days), training, recommendations,
guides or guidelines for optimal use of the software and information.
Proactively monitor the solution, report new vulnerabilities that affect the tool.
ONCALL 24X7 10% ADDITIONAL
TO RUN & OPTIMIZE (RECOMMENDED)
Our oncall 24x7 team supports and maintains customer productive infrastructures
and critical services every day of the year.